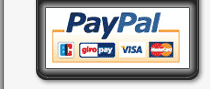 You have a question? We look forward to your call:
+49(0)22 43 89 52 53 0
For your order and support, we are open Monday - Friday 10 to 17 clock.
Help on ordering
Cart
In the cart, please insert the item fixed amount, payment method and shipping.
With a click on the "Proceed to Checkout" you begin the checkout process ...
Login
If you are not yet logged in, please login now. To do this, please provide your
email address and the password assigned by them.
If this is your first order in our shop?
Then please just e-mail address and choose "I am a new customer."
Billing Address
Please provide your full billing address. In this step, you must confirm the
knowledge of our Terms and Conditions. Please read our Terms and Conditions
and to highlight this point.
Only if you are a new customer, a password must be stored.
Delivery address
Choose in this area please the shipping address to which your order will be delivered.
Is not the correct address exists, then please create a new delivery address.
Debit
Only for direct debit payment method now appears to query the account data.
Please note the correct spelling of their account information.
Order Summary
Finally, you get an overview of all the data and all items including total.
With a click on the button "Order" the order will be sent legally binding.
The purchase agreement is the final confirmation of the provider completed by e-mail.

Secure login:
Oder sind Sie
New Costumer