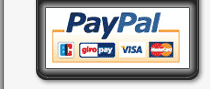 You have a question? We look forward to your call:
+49(0)22 43 89 52 53 0
For your order and support, we are open Monday - Friday 10 to 17 clock.
Imprint

tommotec - BIKE PARTS EITORF
Owner: Thomas Müller
Spinnerweg 51-54
53783 Eitorf
Fon: +49 (0) 22 43 89 52 530
Fax: +49 (0) 22 43 89 52 540
Email: info@tommotec.de
Retail, wholesale and mail order


Responsible for content according to § 5 TMG
Thomas Mueller



Online Content
tommotec - BIKE PARTS EITORF not to be responsible for the topicality, correctness, completeness or quality of information provided. Liability claims relating to material or immaterial nature caused by use or disuse of the information or the use of incorrect and incomplete information are excluded, provided by tommotec - BIKE PARTS EITORF no intentional or grossly negligent fault. All offers are non-binding. tommotec - BIKE PARTS EITORF reserves the right to change parts of or the entire offer without prior notice, add to, delete or temporarily or permanently.

References and Links
Provided to external sites referenced directly or indirectly, outside the responsibility of tommotec - are BIKE PARTS EITORF liable tommotec - BIKE PARTS EITORF only if it has knowledge of the contents and it would be technically possible and reasonable for the use in to prevent any illegal content. For additional content, and especially for damages resulting from the use or disuse of such information, only the provider of the site referred to, and not the one who has linked to these pages.

Copyright and Trademarks
tommotec - BIKE PARTS EITORF strives to respect the copyrights of the graphics, sound files, video sequences and texts, to use his own graphics, sound documents, video sequences and texts or to use graphics, sound files, video sequences and texts.
All within the Internet offer and possibly protected brands and trademarks are the provisions of applicable trademark law and the rights of the copyright owner. The mere mention does not imply that trademarks are not protected by law!
The copyright for published tommotec - BIKE PARTS EITORF himself remains solely with tommotec - BIKE PARTS EITORF. Any reproduction or use of graphics, sound files, video sequences and texts in other electronic or printed publications without the express consent of tommotec - not allowed BIKE PARTS EITORF.


Privacy Policy
We appreciate your interest in our website and our company. For links to external content while we can, despite careful content control no liability.
The protection of your personal data when collecting, processing and use during your visit to our website is important to us. Your data is protected under the law. Below is information on what data is collected during your visit to our website and how it is used:

1. Collection and processing of data
Every visit to our website and each download of a file stored on the website are logged. The storage serves internal system-related and statistical purposes. Recorded: name of the file, date and time of access, amount of data transferred, notification of successful download, web browser and requesting domain.
Additionally, the IP addresses of the computers are logged.
Additional personal data is only collected if you provide this information voluntarily, eg in the context of a request or registration.

2. Use and disclosure of personal data
If you provide us with personal data are made available, we use it only to answer your questions, to execute contracts with you and for technical administration.
Your personal data to third parties or otherwise transferred only if it serves the purpose of the contract - in particular the transmission of order data to suppliers - is required, this is needed for billing purposes or if you have previously agreed. You have the right to consent with effect for the future at any time.
The deletion of stored personal data if you withdraw your consent to storage, if the knowledge to fulfill the intended purpose of the saving is no longer necessary or if their storage is inadmissible for other legal reasons.

3. Right
Upon written request, we will inform you about your stored personal data.

Security Note:
We strive to protect your personal data by taking all technical and organizational possibilities so that they are not accessible to third parties. When communicating by e-mail the complete data security can not be guaranteed, so we recommend sending confidential information by post.

Secure login:
Oder sind Sie
New Costumer